Naval Base Kitsap Team Supports USS Theodore Roosevelt Change of Homeport
10 Jun 2021
The USS Theodore Roosevelt contacted Naval Base Kitsap (NBK) in May requesting a combination of Return and Reunion Workshops as well as Change of Homeport Briefs to be presented in person onboard the ship to aid Sailors in their Change of Homeport transition from San Diego to Bremerton. NBK Fleet & Family Support Center (FFSC) was quick to respond and coordinated a team to fly onboard to provide support. The team included representatives from Housing, MWR Community Recreation and FFSC Work and Family Life (WFL) Consultants.
FFSC coordinated recordings to be played on the ship's SITE TV and the command worked with the Ombudsman to have them available for viewing by family members. While onboard, WFL Consultants provided more than 80 classes covering topics such as Smooth Move, Welcome to Kitsap, and Reintegrating with Partners and Children. Overall, more than 2,300 Sailors attended these offerings. WFL Consultants also provided many one-on-one sessions to assist Sailors with specific needs and concerns.
The MWR representative provided about 60 briefs to 1,600 personnel held in conjunction with the Housing representative who provided information on Unaccompanied Housing, parking, room descriptions, resident advisors, geographic bachelors and UH requirements. Sailors were also provided briefs on renting and purchasing homes in Kitsap and how to register for housing on base. More than 95 personalized one-on-one sessions were accommodated onboard the ship resulting in expedited transition and reduced stress for Sailors.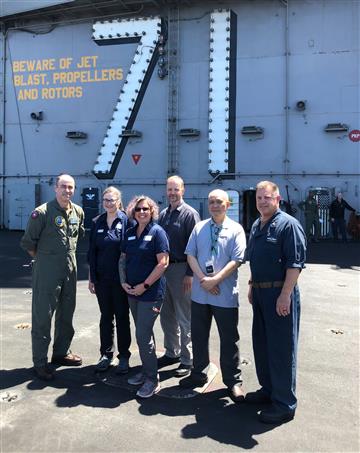 Pictured left to right: Captain Anduze, Naomi Larson, Marcia Patty, Erik Ruud, Abraham Nguyen, Master Chief Vanduzer